November 12, 2020
ASGC Construction implements Dominate Smart Asset Management solution to track the overall performance of their assets in real-time.
About ASGC Construction
Established in 1989 and employing over 16,000 workforces, ASGC is a vertically integrated construction group that is best known for delivering turnkey special projects in the UAE, Egypt, and other countries. The company owns the majority of its assets and utilizes mostly in-house resources.
During its three decades of successful experience, ASGC has completed projects across diverse sectors such as residential, commercial, leisure, hospitality, healthcare, education, social infrastructure and industrial.
Background
ASGC Construction's work is divided between different sites and locations mostly in two countries. At the time of installation, the company had to manage 16 sites, most of them in remote locations. On each site there were a large number of assets utilized by different trades, and constantly being transferred to other sites, locations or work zones. In addition to the jobsites, the company had two separate facilities for storage and service of construction assets. In the Crane facility, they stored cranes, performed maintenance and repair services, and sent the cranes to different jobsites. In the Workshop facility, they performed maintenance and repair services on their vehicles (busses, trucks, vans, etc.), construction equipment (such as compactors, loaders, excavators, bulldozers) and tools.
Challenges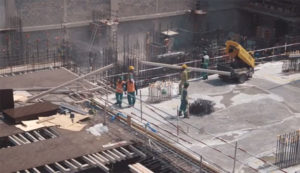 With all the assets and equipment on different sites in two countries, onsite and offsite, it was easy to lose control. ASGC had many challenges, the main ones highlighted below:
Poor Visibility Challenges
With so many sites across two countries, it was important to know where assets are at any time. They kept track of asset movements using an inhouse system that was mostly manual and inaccurate. They could document transferring out an asset but without proper receiving and recording, accurate asset visibility was absent in the operation. They also had to search for an asset for hours or days. A lot of resources were being wasted just for searching and finding a misplaced or lost asset.
Poor Asset Utilization Challenges
They did not have clear visibility of their asset usage. They could not tell which asset was idle or under-utilized. Idle assets were becoming a costly drain on ASGC's profitability. In many cases they had to buy unnecessary extra assets just to move a project forward.
 Poor Preventive Maintenance Challenges
Keeping track of equipment and vehicle's preventive maintenance was a manual and error-prone process. Additionally, keeping track of those assets that had to be serviced based on their hours of operation was nonexistent. The end result was that equipment would break down causing interruption and delays of projects.
Project Delays and Cost Overruns Challenges
Without proper asset availability controls, they faced hours or days of project delays and cost overruns. They needed to make sure that assets were available for use at the time they are needed.
Fleet Management Challenges:
The company owned a large fleet of vehicles. They needed to know where each of their vehicles are at any time, how much fuel they have used and what mileage they have driven.
Dominate Smart Asset Management Implementation
ASGC needed an enterprise-level asset management system to optimize its asset visibility and productivity throughout their business units. The managers needed precise real-time information on where their assets are at any time, how much they are being used and their availability for next projects.  They needed a data-driven asset management system, where they can take a variety of actions with noticeable positive impacts on a project's timeline and costs. They wanted to be able to swiftly move assets between sites to accommodate the construction requirements without investing into erroneous equipment acquisition. Their goal was to achieve a high ROI in a short time.
ASGC's use of Dominate Smart Asset Management involved tagging every asset including vehicles, cranes, tools, construction equipment, etc. BLE-based Active tags were affixed to all assets and GPS tracking devices were installed in the vehicles and busses. This helped the company to manage its assets and vehicles, whether onsite, in laydown yards or on roads.
100% Enterprise-Level Asset Visibility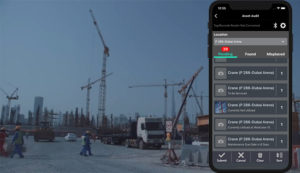 Using BLE-based RFID technology, the system allowed them to locate their assets easily and accurately, even when they were covered by mud or hidden under other assets. It also eliminated the time needed to search for lost or misplaced assets. By issuing alerts in case of unauthorized use, restricted access or even a stolen asset, the Smart Asset Management system prevented misuse and, in the event of theft, helped users to take immediate action to stop the event.
Maintenance and Repair
By automatically feeding an asset's mileage or hours of use into the asset management system, ASGC was able to track the maintenance due dates without any efforts. The service personnel would receive daily notification of the assets that are to be serviced. Maintenance schedule provided visibility of the assets to be serviced, currently under service or completed. Using mobile apps, staff would go to the field and perform the maintenance, register the repairs and parts used into the Work Orders. The spare parts inventory module made sure all the service parts are in stock and would send reminders if one would fall below minimum stock level.
Real-time Asset Movement Tracking
By installing BLE-based location beacons and IoT Gateways at each site, the assets' exit from one facility and entry into another was automatically tracked. Coupled with the GPS tracking of vehicles, the system provided real-time visibility of all assets at each site and in-transit.
From Cost Center to Profit Center
With accurate identification of under-utilized and idle assets, managers were able to make informed decisions on reducing excessive assets. Maintenance module provided precise asset's maintenance costs including labor, parts and even third-party repairs. As a direct result from this streamlined cost-benefit analysis, some assets were sold, and some were leased to other construction companies. These actions led to revenue generation for the company by turning their cost center into a profit center.
Real-Time Tracking of Vehicles on Sites and on Roads
By automating record keeping and providing accurate and timely information, Dominate Smart Asset Management provided the company with the ability to better manage their fleet. Using GPS devices, the information related to the location and status of the fleet was captured and registered in the system, helping the company to deploy the assets more efficiently. They could see all the vehicles on a map, and know where they are at any time, how much fuel they have used and what mileage they have driven.
Check-in / Check-out
Prior to the implementation of Dominate Smart Asset Management, managers used a large magnetic board on which they manually tracked the location of assets and transfers between sites. They insisted in keeping the same process. After the system was implemented, they use a 75" monitor on which they can see all asset movements and activities in real-time.
This feature helped them to better manage their storage, laydown yards and other locations where assets where kept. It helped them to keep track of the countless assets that were continuously checked in and out. The system turned out to be flawless in tracking of assets because even if a user forgot to check out an asset through the system, when it arrived at the destination location it was automatically scanned by the BLE Location Beacons (installed at the entrance), and its current location would automatically be updated in the system and available to all the users.
Implementing the Dominate Smart Asset Management solution, ASGC managers was able to:
Gain real-time visibility of equipment at each site, in-transit and in-service departments.
Achieve 100% asset visibility.
Identify idle and under-utilized assets.
Increase asset availability.
Eliminate project delays due to equipment failure.
Lower maintenance and service costs.
Empower maintenance staff with predictive maintenance analytics.
Achieve better traceability and custodian accountability resulting in a significant reduction in shrinkage.
View where each of their vehicles are at any time, how much fuel they have used, and what mileage they have driven.
Turn their assets from a cost center to a profit center.
Videos of this installation can be viewed at Dominate SmartSite.
Benefits
Improved resource allocation.
Increased operational agility and productivity.
Reduced financial and non-compliance risks.
Increased asset life, higher resource efficiency and improved productivity.
Reduced service and maintenance costs.
Reduced downtime as a result of timely preventing and predicting asset failures.
Reduced total cost of ownership.
Increased return on investment.
Conclusion
Dominate Smart Asset Management solution allowed ASGC Construction to track the overall performance of their assets in real-time. The system helped ASGC managers to achieve full visibility and control over their asset utilization, maintenance management, cost monitoring and proactive measures to maintain optimal efficiency. Once the system was implemented, they knew in real-time what assets they had, how many they had and where they are. They were also able to plan their maintenance programs much more accurately and efficiently. The system alerted the responsible personnel to missing or misplaced items, unauthorized access to equipment so they could eliminate the vulnerabilities and take the corrective or preventive actions on time to prevent project delays and cost overruns.